If you don't and your Podiatry Clinic has a website, then you are not getting the most out of your website to get potential patients to your website.
Search Engine Optimization: Your visual blueprint for effective Internet marketing
Editor: Kristopher B. Jones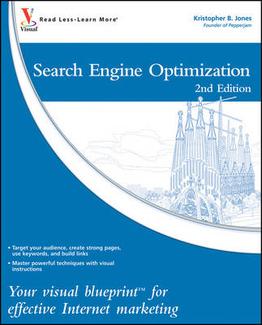 A visual approach to the power of SEO marketing from a world-renowned Internet marketing expert Search engine optimization (SEO) is an ever-growing and powerful form of online marketing that allows business to grow in a faster, more cost-effective way by increasing traffic and visibility to a Web site. This updated resource remains the only book of its kind to take a visual approach to the essential component of maximizing the effective marketing strategies that SEO provides. Packed with more than 600 screen shots, top Internet marketing expert Kristopher Jones explores search-engine marketing principles such as keyword generation, on-site optimization specifically regarding Web site structure, internal linking, URL structure, and content creation, and much more. * Presenting the only known book on the market that takes a visual approach to the powerful and growing form of SEO marketing * Covers the increasing role of social media Web sites as well as the convergence that is occurring between paid and organic search-engine marketing * Offers you a strong foundation for developing successful SEO strategies Search Engine Optimization: Your visual blueprint for effective Internet marketing, Second Edition captures the immense potential of SEO and delivers it to you in a visually understandable way.
Buy Search Engine Optimization: Your Visual Blueprint for Effective Internet Marketing from Fishpond.co.nz
Kristopher B. Jones is considered one of the top Internet marketing experts in the world today. He is a frequent keynote speaker, presenter, and moderator at major national and international marketing conferences, including Search Engine Strategies (SES), Affiliate Summit, and the Electronic Retailer Association. Kris is also a sought-after speaker at colleges and universities around the country and has delivered inspirational lectures to thousands of college and graduate students at schools such as Penn State University, the University of Pittsburgh, and Villanova University.
Buy Search Engine Optimization: Your Visual Blueprint for Effective Internet Marketing from Fishpond.co.nz
Some SEO Resources:
Search Engine Optimisation
Google Link: Operator
Alexa Rankings
Web Directories
Link Building
Alexa Rankings