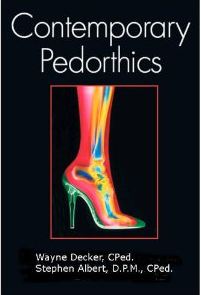 Editors: Wayne Decker, C. Ped. and Stephen Albert, DPM, C. Ped
Published in 2002;  soft cover; 330 pages.
This contemporary book on foot and lower limb anatomy, foot biomechanics and the common disorders of the foot.
Illustrations are extensive and clear
Glossary and references are complete and extensive.
All of the pedorthic treatments and interventions that range from footwear to foot orthoses are covered in good detail.
Top reference resource for any foot care provider, or wanting to understand a patient's pedorthic prescription or follow a career in pedorthics.
Buy Contemporary Pedorthics from Amazon.com
Resources on Pedorthics:
Pedorthics Forum